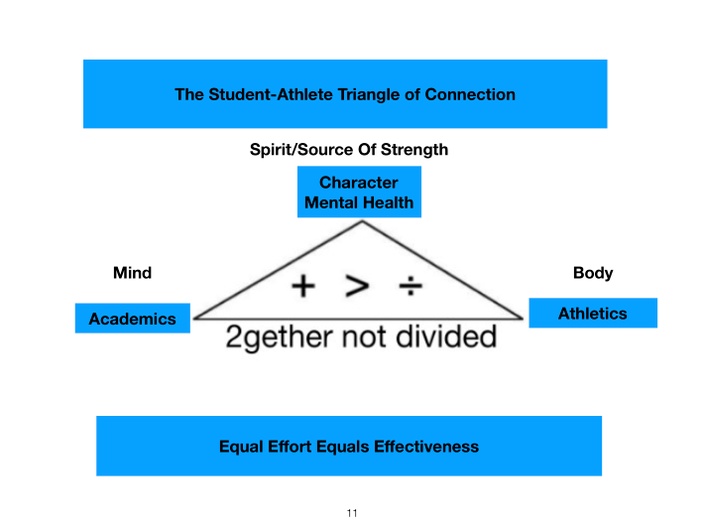 Student Athletes! Who Do You Listen To?
"What High School Refused To Teach You"
Using videos...engaging explanations of proven skills & strategies, and big facts...this class will benefit you as a student-athlete and parent/guardian of a student-athlete.
Student-Athletes are many times (rightly or wrongly) perceived as leaders. Beginning in elementary school and especially in middle school/into high school, we must show student-athletes and their parents the benefits of being academically and character eligible for 4 year universities.
The entire 365 student-athlete success system is based on being academically eligible as a "regular student" for 4 year universities. This class really illustrates how to truly make yourself attractive to college coaches by having a 3.0 academic GPA or higher. This plan really illustrates how to make yourself attractive to college coaches by daily showing high quality character and leadership. There is so much emphasis on court, field, pool, etc... prowess in our society, it has diminished the focus on gaining knowledge and building character. This class (as well as Ebooks available at weareworking2gether.org) works 2gether to give educators, coaches, students, and parents 24/7 access to motivation, knowledge, and inspiration regarding the process of becoming a college student-athlete. The materials give you 24/7 access to what will build character skills that will serve you in your sport and (more importantly) for the rest of your life. The 365 Success System works for the students as well as for the parents to lay the foundation for turning the tables on the existing system...the system of athletic success 1st.
Let me show you some statistics regarding the % of high school student-athletes that get an NCAA athletic scholarship. Actually these statistics reflect the % of high school athletes that compete in college sports. The % of those on scholarship is less.
Men's Basketball 7.1% Women's Basketball 3.8% Football 6.9% Women's Track/Field 6.0% Men's Track/Field 4.8%
Look! These are for Division I, II, and III! The % of high school men basketball players that play Division I collegiate basketball is 1.0%!! The % of high school women basketball players that play Division I collegiate basketball is 1.2%!
Men's Lacrosse is 12.4% but most of that is Division III. Women's Lacrosse is 12.6% with most of those spots in Division III, also. You can go to http://www.ncaa.org/about/resources/ research/estimated-probability-competing-college-athletics for the complete list. This chapter isn't about squashing any kind of dreams. Go for it! But the system is banking (literally) on our kids' mindset that sports is the only way to success. So, from someone who turned down scholarships out of high school and played Community College ball and then went to an excellent NAIA basketball school on an athletic scholarship go for it! BUT!!
The amount of athletic scholarships out there is like super little...the amount of academic based grants and scholarships is really, really way more. If you factor in economic need with an academic GPA of minimum 3.0...the amount of grants and scholarships goes up even more.
As you can see, we need to shift the emphasis of "sports are my way out of __________" to "academics and character are my way out of ___________" If you are in an AAU or 7 on 7 or Club Team situation and they don't have a higher priority on academics vs athletics, you need to either find a situation that does OR create this new priority within your organization using my stuff or something like it. And hey, if your child/athlete is academic GPA 3.0 and above, character driven, mental health is strong, and just wants to gain athletic skills...it's a great situation! The SportWorld SuperCamp back in the summers of 1977 and 1978 built my skills, gave me exposure to college coaches, and showed me I could hang with the best high school players in the western U.S.. But, my high school GPA was 3.0 including some honors classes...as the saying tells us "Where focus goes...energy flows"
The Mental Health Statistics in the United States show how we as the American Education System are truly letting down our students and families. We are amazingly letting down our student-athletes and their families as well. As Phil Jackson states "We spend so much time lifting weights, making our bodies stronger...but so little time in strengthening our mind." We have to stop having our children identify only as an athlete. Why tell you that??? Because I have a lot of my former students that were massively successful (Professionally and Division I) in their chosen sport tell me to tell you that. I mean, let's look at this whole sports thing in a positive light. Your child/student gets into a Division I program. The athlete will be in meeting after meeting...Workout after Workout...Practice after Practice...Flight after Flight. They will have to fight for their "education"...especially if they are in one of the big money making sports. Let's say they make it to the professional level. They play...make some money... then they're 26 and their body wears down or someone younger took their spot. What do they do for the next 74 years of their life???
We have to make mental health a priority for our middle school and high school student-athletes. The classes in this online school are a big part of meeting that need. What's interesting is, when mental health improves...performance in the sport improves. Anxiety amongst athletes is real...Depression amongst athletes is real...Our kids deserve our help. There has to be a massive/all inclusive mental wellness skill building system for all student-athletes and precise system of finding students and student- athletes in need of immediate mental health assistance and then provide the assistance.
Your Instructor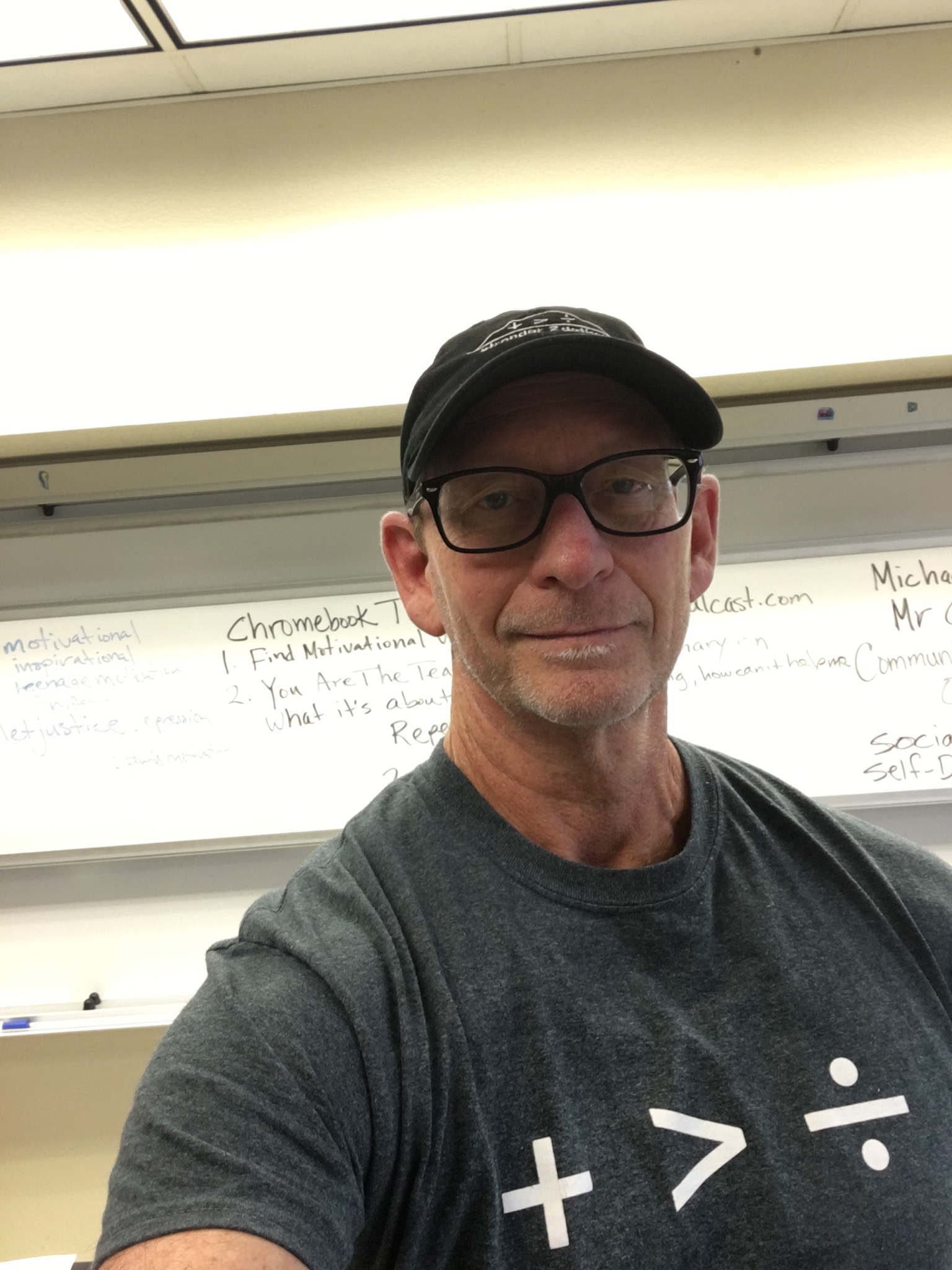 We believe in Public Education...but, it's not doing what it needs to do for students to become the best version of themselves. Public Ed isn't doing what it can do to change our society for the good. We service 51 million PreK--Grade 12 students a year and have the opportunity to make a real difference! MICHAEL GRAY has been an educator for 35 years. He is currently the Mental Wellness Counselor and Teacher of Self Development Classes in a Public High School. Michael has been an Elementary School Teacher, a Middle School Teacher & Counselor, and a High School Head Counselor, Teacher & Counselor. He has also coached High School and College Basketball (In addition to being an All-League, All-Tournament, MVP, Captain player in High School & College). We aim to interrupt the patterns of negativity, anxiety and fear that exist in elementary, middle, and high school students. WE TEACH AND ENCOURAGE YOU HOW TO BE SIGNIFICANT. Our goal is to improve student attendance, conduct, academic performance, and (more importantly) happiness. The 365 System has proven to help thousands of students and student-athletes overcome all types of obstacles and become academically & character eligible for college, scholarships, and more importantly living their best lives! THIS CLASS (and others that will be available soon) helped create a combined 10% increase in student connection to school! The mantra of the 365 Success System is "Each 24 hours we work to reduce anxiety/depression and the "achievement gap" amongst USA teens until it no longer exists. Each 24 hours we work to have 100% of student-athletes and all students be academically and character eligible for universities. This creates choice and flexibility for whatever path/journey you choose"
Course Curriculum
Intro To Who Do You Listen To? Section 1
Available in days
days after you enroll
Leadership Section 2
Available in days
days after you enroll
The Power Of Being Connected Section 3
Available in days
days after you enroll
Frequently Asked Questions
When does the course start and finish?
The course starts now and never ends! It is a completely self-paced online course - you decide when you start and when you finish.
How long do I have access to the course?
How does lifetime access sound? After enrolling, you have unlimited access to this course for as long as you like - across any and all devices you own.
What if I am unhappy with the course?
We would never want you to be unhappy! If you are unsatisfied with your purchase, contact us in the first 30 days and we will give you a full refund.
Thank you for taking this class! Any and All feedback is welcome! You can email me at [email protected] and I will respond. You can also email me at that address with any questions you have. You will receive a Certificate Of Completion and a PDF version of this class.
This is one class in a "school" that will add many classes over the next few months and beyond. Each class will be $19. We are interested in creating a movement that benefits individuals, entire communities, and ultimately the country and world. The power of us 2gether...collectively is real and necessary.
I look forward to working with you again and always! Stronger 2gether,
Michael Gray [email protected]